Established in 1987 by Theo Bros. Inc.
Four generations of restaurateurs for over 70 years.
4th Generation of Restaurateurs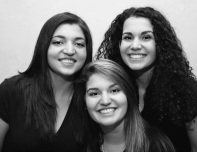 Katrina, Raquel & Alexandria
   Let me introduce you to our 4th generation: Katrina, Raquel & Alexandria Theodosopoulos (left to right), our daughters.
Alexandria Theodosopoulos is currently a High School English teacher. She graduated with honors from Muskingum University with a Masters in Teaching and The Ohio State University with a double major; a Bachelor of Science Degree from the Fisher School of Business within Business Administration specializing in International Business, and a Bachelor of Arts degree in Psychology. Alexandria re-established the Alpha Gamma Delta Fraternity at The Ohio State University and held multiple offices. She was active in the ALD-PES Honorary Society and was a Research Assistant for the Psychology Department. As a student exchange student, she traveled to Australia and Greece while visiting New Zealand and Indonesia.
Katrina Theodosopoulos graduated from The Ohio State University with a Bachelors in Zoology. She furthered her schooling to become a Software Engineer & Web Developer through MakerSquare located in Austin, Texas. She currently works in Austin, Texas as a Software Engineer. When she was in Middle School Katrina started selling T-Shirts on CafePress: Katrina's T-Shirts; and has never stopped creating and coding. Katrina has traveled to Costa Rica, Panama, England, Greece, Italy and France to study the culture and habitat of many different animals and species. She has worked at The Columbus Zoo, volunteered at Pets Without Parents and The Save A Dog Foundation. She is a member of the Alpha Gamma Delta Fraternity.
Raquel Theodosopoulos is a Sargent in The United States Marine Corps. She serves her country to defend the freedom of all Americans. She traded her party nights for training days, her soccer cleats for combat boots and her phone for an M16 rifle. Her tenets are Duty, Honor, and Commitment in services to God, Country, and Corps. No matter the Cost; No matter the Sacrifice, Even to the last full measure; She will do her Duty. The Few. The Proud. The Marines. Semper Fidelis!
---
---
From Father to Son…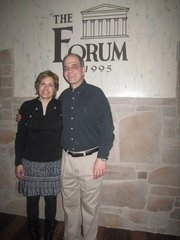 Alex & Karen
   The Forum is owned and operated by Alex Theodosopoulos, whose family has been in the restaurant business since 1931. Alex grew up in a Greek household where food was the sun around which his families solar system revolved. His forefathers have handed down all the traditions and secret recipes that are part of the restaurant today. Alex didn't start out cooking. He learned the hard way; first by cutting french fries at the age of 8 years old, then he helped bake pies, prep food and once he was old enough and strong enough he bussed the tables. Around the age of 15, Alex became one of the cooks until he left for college. He studied Business Administration at the University of Cincinnati. Once he returned home he became manager of Theo's Restaurant. In 1986, while attending a National Greek Convention in Colorado, Alex met his soon to be wife, Karen. Karen works within Education and holds a Masters in Mathematics along with a Bachelors in Computer Science.
Alex is very particular about the quality of the food that he serves to his customers, so he looks for the freshest local ingredients that he can find. He also avoids prepackaged items and makes an abundance of homemade items from scratch. His recipes have been handed down from generation to generation to create the exquisite textures and flavors which satiate the palate. As he says, "Because life was meant to be Enjoyed!"
---
---
Once upon a time…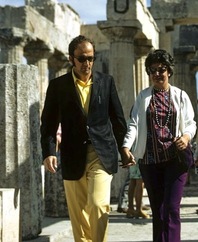 Nick & Themi Theodosopoulos
   The year was 1946 two very young teenagers, Nick Theodosopoulos, 19, and Themi Granitsas, 18, met and were destine to share the rest of their lives together. Flash forward 3 years. Nick earned his Chemical Engineering Degree while working the midnight shift at the US Rubber Company. While Nick was working for Dupont in Delaware he drove to Cambridge, OH and propose to Themi, who graciously accepted.
Nick was transferred to Marquette, MI to work for JNL Steel, where their eldest son Alex was born. In 1963 Nick and Themi moved to Cambridge to partner with James Granitsas, Themi's brother, at "The Coney Island Restaurant;" the current location of "Theo's Restaurant." Once James Granitsas earned his Judicial Degree a few years later, Nick bought him out and was the sole proprietor until his two son's Alexander and Steve purchased the business from him in the 1990's. Nick continues to work every day at the restaurant.
---
---